Kitchen styling can mean several different things – everything from some of the major design decisions you're going to make to the tiniest of room and decor details that will really convey the room's character and make it feel curated and very much your own.
It can feel daunting as you want to achieve a balance between design and functionality. Personally, I like to keep my kitchen fairly clutter free, however that's not always the case mostly because my husband loves to cook (with every item we own it seems) so it gets a lot of use. While my style is not minimalist, I still like to be intentional in what is displayed in my kitchen. No matter your design style, these kitchen styling pointers make it easy to create a beautiful heart of the home for everyone to enjoy and yes, admire.
So How Do I Get The Look?
For the sake of this post, let's say you've got a good kitchen to work with (New Home, Renovated Kitchen, Great Existing Kitchen) and you're just stumped on putting the final touches on the room. Gone are the days of the "Themed" kitchen filled with little French Chefs, Sunflowers, and so on.
Lay out the direction you want to go with the style. Modern, European, Americana, Boho, etc.
Once a design has been selected, think finishes. Pendants, Cabinet Pulls, Faucet. These elements can go a long way into transforming your space into a bespoke look. NEVER underestimate the power of a statement pendant or chandelier within your kitchen space.
Think about the functionality of your space. If you are constantly using a nice skillet or saucepan, consider a wall rack for your pots and pans. This gives an epicurean look as well as the easy access to your cookware. Do you have a great wooden cutting board or two? Place them within reach, maybe propped against your backsplash for a bit of warmth and texture to the counter (especially if it's a light marble, quartz, or granite)
Plants bring warmth into a space, and since kitchens are typically a space of marble, wood and metal, they can seem cold and angular very easily. Try a few potted plants, say mint, basil, thyme, etc., not only will they be a great addition for fresh cooking, they will add a layer of interest to your counters.
Do you have open shelving or glass front cabinets? Don't fret over their perfect layout, We've passed the time of displaying that Fine China as a staple. Fill them with usable items. A clean patterned daily used dish set, simple coffee mugs, pitchers, cookbooks, and a few cherished or interesting accessories (orbs, statues, urns, etc.) arranged throughout will give the space visual interest, guaranteed.
Working in these steps will give you a good baseline for your kitchen. A polished look that isn't trying too hard and remains completely functional as well as attractive to the eye.
Go-To Pieces for Styling the kitchen
I've compiled a list of "Go-To" items that assist me when I stage or design a kitchen space.  It's yours to use or take inspiration from in making your space the "heart of the home"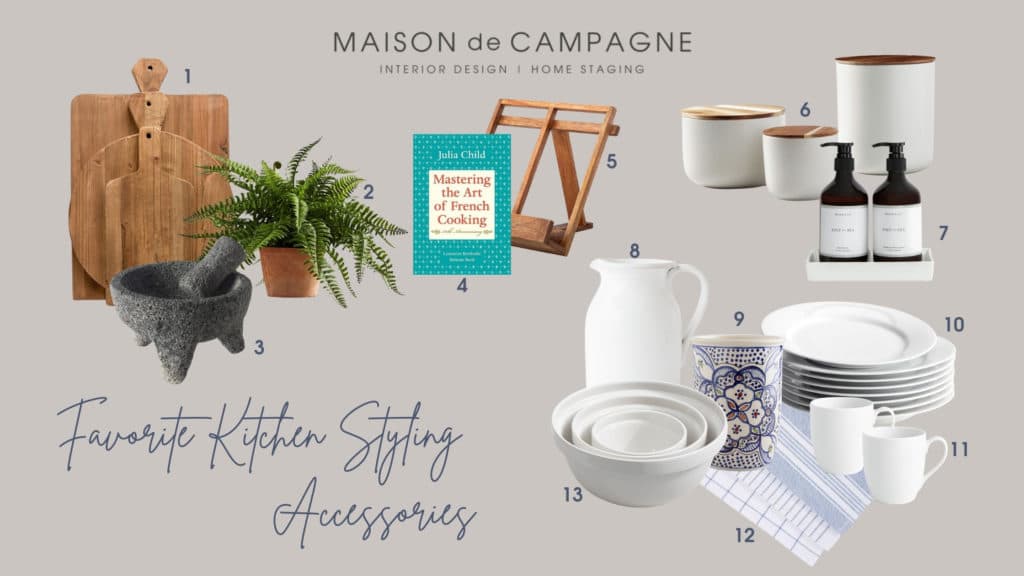 Shop the look:
Kitchen styling shouldn't be intimidating or too expensive. Start by using the items you already have and simplify. From there, add some character and don't forget that function in a kitchen is a must. Happy Styling!
Until next time,