When decorating your home, it's easy to get caught up in the excitement of it all, and lose track of your design budget. Whether you're furnishing a room, an apartment, or an entire home, chances are, you're operating under some sort of budget, or at least trying to. Even if you have some extra cash to invest, you still want to make smart decisions and spend your hard earned money in pieces that are truly worth it.
There are some fundamental areas of the home where it makes sense to invest more on certain pieces and hold back on others, so how do you decide what to splurge on and what to save on?
On this post, we're discussing how to invest strategically and achieve your desired outcome, while keeping hold to that pesky budget.
Spend the Money on High-Traffic Items
Even if you're just looking to give your rooms a makeover, purchasing new furniture can be quite expensive. We all love a good bargain, but there are some items you just can't skimp on. Here are a few items you may want to splurge on when it comes to buying furnishings.
Sofa and Sitting
Your sofa is most likely to be one of the largest expenses for your living area. It's also one of the pieces that's going to see a lot of use over its lifetime. You, your loved ones, and your guests are going to be sitting on that sofa a lot, so if you want a piece that is comfortable, durable and beautiful, it will require a bigger investment.
A quality piece of furniture is going to hold up longer and be built better than a bargain piece of furniture, saving you money in the long run. We suggest going with a higher quality fabric (natural or high quality synthetic). High quality fabrics have a tighter weave to them which makes them feel nicer against your skin, and not only that, they can resist stains and soil much better than less expensive fabrics. That's a definite plus, especially if you have kids and pets!
The same goes for any other seating furniture that will see a lot of "booty" throughout it's lifetime, including kitchen stools and dining chairs.
Mattress
Just like your sofa, this one's going to get a lot of use. I read somewhere that we spend around a third of our life sleeping, which is strange since it never feels like we get enough, right? Splurging for a high-end mattress that's comfortable, durable, and supportive is critical for long-term health and happiness.
Sheets and Bedding
There's no point in buying a mattress that feels amazing and then putting sheets on it that feel like sandpaper. Nowadays, there's a variety of higher quality soft sheets, at virtually any price point. When shopping for sheets, spend some time touching the sheets and blankets to find the one more comfortable to you. When lying down on sheets, they should be breathable and soft and feel great against your skin.
The splurge here, really has to do with your duvet or comforter. We love our down comforters, they are amazing and lightweight but they were definitely a splurge item. The upside is that they will last forever if you take care of them. Money well spent if you ask us. Bargain comforters will become a lumpy mess after a few washes and while they may be economical, in the long run you'll have spent more by having to replace them more often.
Linens can also include your towels. With good quality towels and sheets, you won't need to have 30 towels and 6 sets of sheets per bed. Splurging on a couple of really nice sets of sheets and a few awesome towels and you'll thank us forever.
Tailored window treatments.
Whether you want fully custom draperies or prefabricated panel curtains, splurging on this will have a big impact. Don't forget tailoring to make sure the length of the panels is just right. Floor-to-ceiling draperies make a room look polished and high end. Fabric that is excessively pooled on the floor or hanging several inches above it, will have the opposite effect. Having your curtains professionally hemmed or custom made will ensure a correct fit to showcase your sophisticated design.
Splurge on Showstopping Details
Sometimes you're going to come across a piece that you fall in love with. It may not make financial sense, but this is one of the times you should splurge, you deserve it. Showstopping elements that pull the design together, are always worth the investment. From light fixtures, to art work, to kitchen/bath finishes, these are well worth a splurge if they make the right statement.
Pieces that speak to you, or something unique that adds that "wow" to your home and create a great conversation piece, are also worth the splurge.
Disclaimer – A wow piece doesn't have to break the bank either, it doesn't have to be something expensive, just something that really speaks to you and you know you love. You should be willing to pay more for something that you love versus something that you just like.
Save on Literally Everything Else
There are lots of ways to save money on your home decor and furnishings. From sales (our favorite), to gently used furniture and decor (thrift store finds) to repurposing your existing furniture (think DIY projects), these are great ways to save money when redecorating.
Save on Rugs
Area rugs can be pricey, especially when purchasing for larger rooms. Depending on your lifestyle, area rugs might be a great place where you can save money. You don't want to splurge in an item that is likely to get damaged often. This is especially true, if you have children, pets, and/or like to entertain and drink the occasional red wine.
Save on Lamps
Beautiful lamps can be found at different price ranges, and unless you want your lamps to make a statement, here you can save money. Lamps and shades come in all different styles and colors, so finding a lamp with a timeless style and fitting it with a classic cone or drum shade will work wonders in any room. You can even update a lamp with a new shade and it will look brand new.
Accessories and miscellaneous
You don't have to spend a lot of money on items that give your home some personality. You can find lots of excellent deals on accessories at stores like Home Goods or T.J. Maxx that add a little flare without consuming your entire furnishing budget. If you have any meaningful items that you enjoy looking at daily, they will make your house feel like a home without using up your furnishing budget. .
When it comes to pieces such as throw pillows and blankets, it may feel as though you can never have enough (we definitely can't). It's always good to keep an eye out for deals on pillows and other trendy accents to update your look with minimal investment. You can mix and match colors and textures to add interest and personality to any room.
Pro-Tip: Pillow covers are absolutely the best way to go when you're searching for throw pillows. Any pillow that has a zipper cover on it can have an amazing down pillow (or down alternative) stuffed into it and it will instantly look more high end. Buying your inserts and covers separately saves money. If you find a pillow you love, make sure that it has a zipper so that you can take out the cheap insert that's included and add your own amazing insert, for an instant high end looking one.
Final Thoughts
If you're thinking of a home design project, it is important to establish a budget for furnishing your home. Start with one room and move onto the next. Focusing on one room at a time will let you prioritize your needs and allocate the funds to achieve your goal.
Remember to splurge on the items that really matter and will be used most. In the end, you'll be happy you invested in quality furnishing versus saving a few bucks and have regrets.
Budgeting can be daunting, especially if you don't know the cost of quality items, or how many items you'll need. We've created this easy-to-follow Budgeting Guideline to help you estimate how much money is needed to purchase your new furnishings.
So… download the guide, grab your calculator, and start building the budget that is right for you.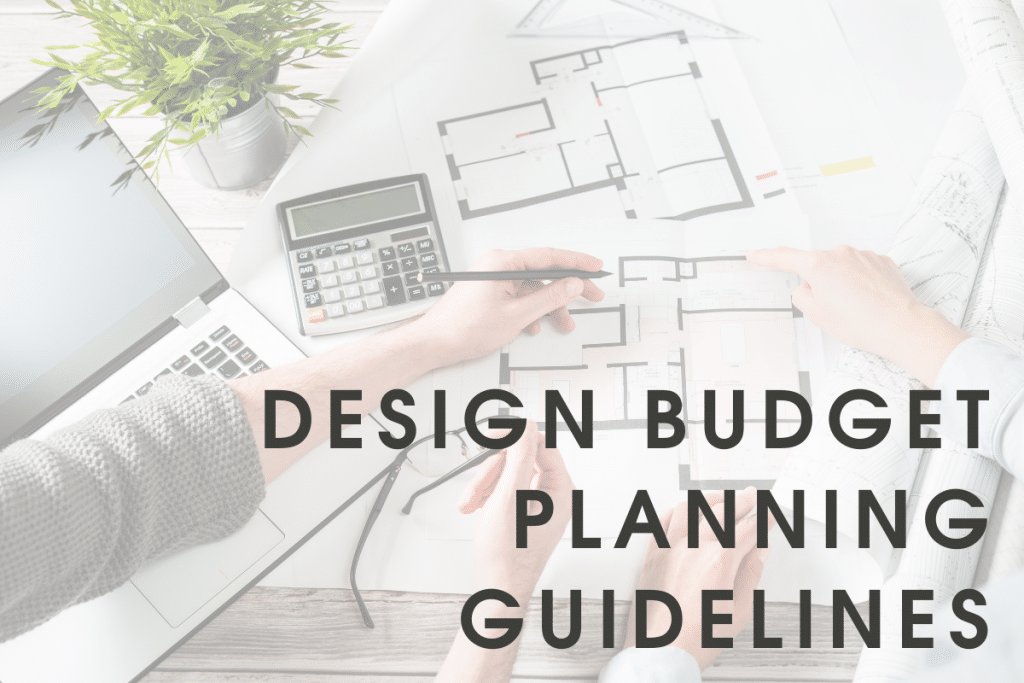 Need help creating a space you love? Check out our Design Services offerings or contact us to schedule a consultation. We'll discover how you use your home, talk budget, and create a design that checks all the boxes. You won't regret it.
Until next time!