The great Karate Chop debate. This is quite a controversial topic in the Interior Design and decorating world. Haven't you heard of it? You have no doubt seen the images of beautiful plush pillows, strategically placed and shaped and thought to yourself how lovely they looked (or not). Maybe you did not even give it a second thought. Now, whether you chop or don't chop a pillow, it can be a really important decision, with arguments for both sides and it can be a very contentious topic.
For those who are not familiar with the term "pillow chopping," it describes a way of shaping and styling pillows. Achieved by fluffing a feather (or down-filled pillow) and using a karate chop motion to create an indentation in the top, it's become an art form for some and an eye sore for others.
Why, though, do people karate chop their perfectly shaped, high-end, feather/down and synthetic-down pillows? Do you have to chop your pillows to achieve that high-end designer look seen in magazine spreads and social media pages?
We are sharing our POV on this, and shedding some light on the "to chop or not to chop" debate.
Chopping Pillows Can Show Off Certain Fabrics
When attempting to accentuate a particular fabric or sheen, the chop can serve to catch extra light and thus create more texture and dimension within a space. If you have silk, velvet, or anything with a sheen, this really shows off the fabric and creates a more luxurious, opulent look. Chopping can also make some prints look less uniform and this can make things like spots or stripes look less bold and more fluid.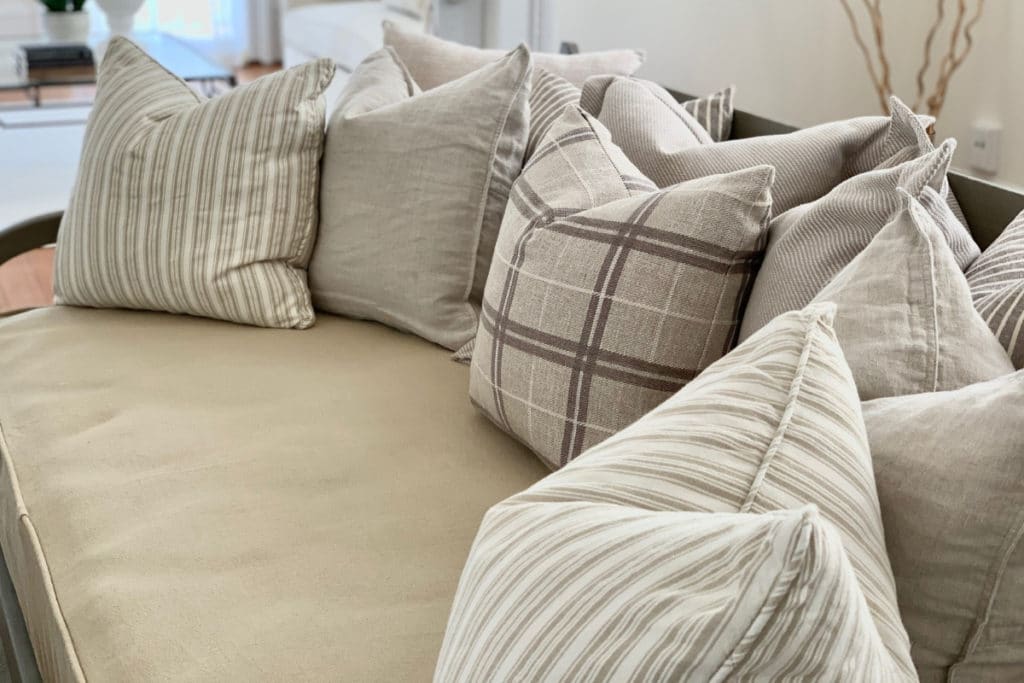 Chopping Pillows Showcases how comfortable they can be
While generally, chopped pillow tend to be seen on more formal spaces, when done right, pillow chopping can enhance a home's sense of comfort, implying that the piece of furniture is comfortable and well-used, particularly when layered with other pillows and perhaps a throw. Whether you sit with your pillow cushions or just use them for decoration, they are supposed to look soft and snuggly, and that means making them look as plump and full of good, soft material as possible. To achieve this, the pillow needs a good filling such a feather or down that are heavier and retain the dent from the "karate chop". A well chopped pillow can really make it look appealing and welcoming to sit on or with. This also applies to larger pillows and cushions which you want to look nice and chunky.
Adds variety
While you still want continuity with your design and styling, adding a chopped pillow here and there along non-chopped pillows will add a bit of variety and interest to a room without it feeling too formal or manicured.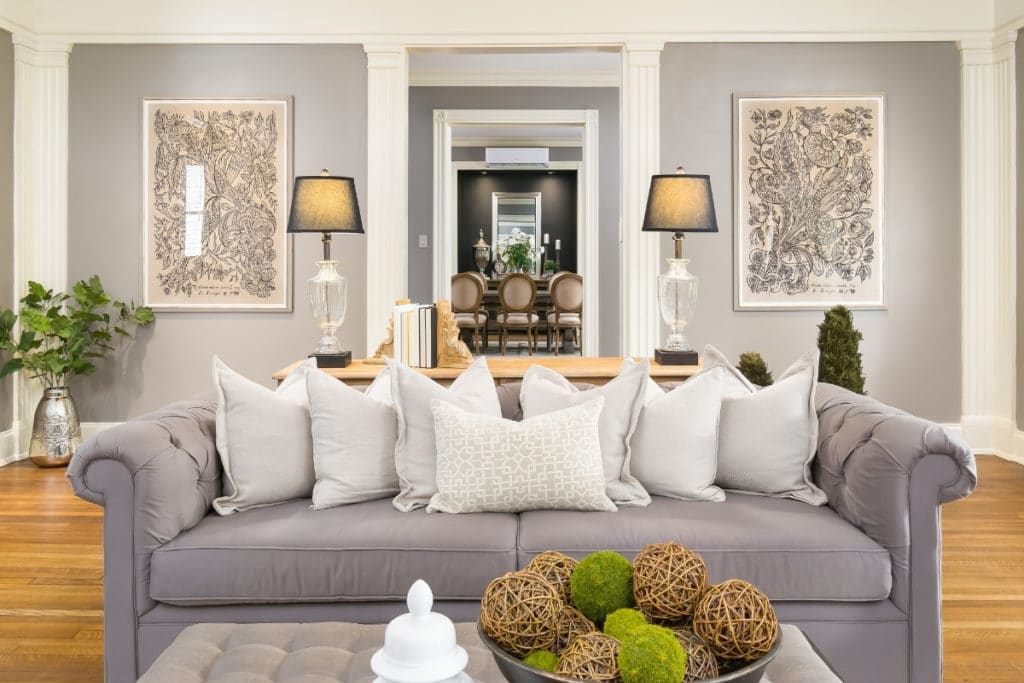 In Summary
As with everything, chopping a pillow or not is a matter of personal taste. There are arguments to both sides, and it can get heated. Personally, we love a good karate chop on pillows. It is not always needed, but when properly executed, they can elevate the overall look of the space while keeping a welcoming look, especially when layered and paired with couches and chairs that have softer edges.
Not all pillows are created equal, a pillow will only chop if its insert is soft and squishy, meaning filled with a down/feather mix. The same effect cannot be achieved with a cheaper cotton blend or poly inserts.
Wherever you stand on the pillow-chopping issue, neither way is right or wrong from a design standpoint. It's simply a personal style preference. In truth, the secret to a nice-looking pillow has more to do with the fabric used to cover it and the quality of the insert than in the formation. The higher the fill, the better your pillow will look — chopped or unchopped.
Where do you stand on the chop-or-not debate? Leave your comments below, we really want to know.
Until next time!.