Every time I think of Thanksgiving my mind goes to the table. A table where family and friends gather to enjoy one another's company and reflect on what each is grateful for. In this blog, I wanted to talk about the center of that activity, the table. So many have moved away from the "formal" dining room these days because of our busy lives and the need to have a more casual setting for a comfortable and enjoyable dinner. Well, let's pull out all the stops and dress that table for the holiday. I've set my table with neutrals for a calming candlelit dinner to elevate the everyday, but not feel so over the top, you won't feel like you're sitting at the wrong table in the wrong home.
I have chosen to set the scene with dinnerware I purchased from Sur la Table a few years ago (Don't worry, I got the sets just after that Thanksgiving for a screaming deal) that are a cream tone with harvest pumpkin embellished rims. Just below the dinnerware, I've added an inexpensive galvanized charger to keep that casually elegant look (Kirkland's). I picked natural fiber linen napkins and a ruffled (French inspired) runner. These elements have a richer feel and texture that will leave your guests feeling like you've added that extra touch to their setting. Flatware was selected again from my love of "antiqued" utensils with a stone washed surface. I found these from H&M and bought what may have been a truckload (nice weight and feel to them). Add a Water goblet and wine glass to the setting and you've got the start to a wonderful gathering.
Let's talk about the centerstage now. Pick a centerpiece that you feel pulls the package together. Some want minimal clutter and "things" out of the way during dinner. That's okay, you can scale back when it comes down to serving or leave as is since it's the bow on the gift! I used ceramic pumpkins to weave through the centerpiece as well as a few lanterns for the candlelight, placing them to not encroach on everyone's space, but to set the scene. I added some garland woven through the items and stepped back, adjusted a little, and walked away happy.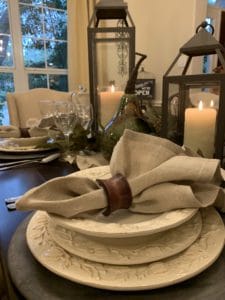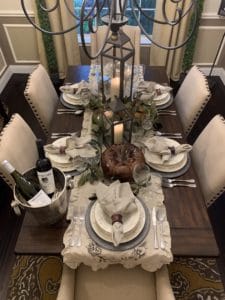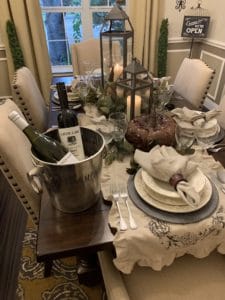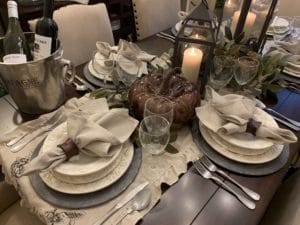 I am sure I will adjust things again and possibly start all over, but that's the beauty in setting your table, it's like trying on a different outfit until you've found the perfect one.
Tell me what you think. What are your go-to's when you create a tablescape?
Until next time,