According to a recent article on the Houston Chronicle; "low mortgage rates and a growing supply of properties on the market propelled Houston-area home sales to a record in July 2019 with the bulk of the activity taking place among the area's moderately priced homes.
Buyers last month closed on 8,953 single-family homes here, beating the previous high of more than a year ago by 568 sales, according to the Houston Association of Realtors. Sales jumped nearly 12 percent from July 2018, one of the biggest year-over-year sales increases in years. Upwards of three-quarters of the of the homes that sold last month were priced below $400,000.
"The real sweet spot is between $150,000 and $350,000," said James Gaines, chief economist at the Real Estate Center at Texas A&M University. With 2019 more than half over, Houston is poised to outperform last year's record volume, the Realtors' association said. Through the first seven months of the year, sales are 3 percent higher than during the same period in 2018."
With the market being as is, we get asked all the time by Real Estate Agents and Homeowner's alike "Do we really need to pay to have our property stage?" In short, the answer is YES! But why is this? Let's break it down.
What is Houston's current real estate market? – As mentioned above, the current market is showing a higher number of buyers than properties for sale. While the number of listings are increasing, the current market is still a Seller's market. Based on basic laws of supply and demand, this means sellers have the upper hand. This offers a great advantage to home sellers as this can drive housing prices up, and most houses are sold with multiple offers. Buyers will be quick to move on a property that they are interested in and will work to present the most appealing offer possible from the get-go in an effort to secure the property. This can be a game-changer for almost any real estate market. It DOES NOT mean that every house that goes on the market gets a bidding war the day it hits the MLS, or that buyers will overpay because there are so few homes on the market, and that a home should be listed as-is.
In a seller's market, homebuyers are often purchasing at the top of their purchasing power. This means that most buyers will have very little funds available, if any, to spend on any additional renovations or repairs upon purchase of the home and therefore the importance of a move-in ready home is higher than ever. Homes that are prepared properly will net the greatest return and largest quantity of offers.
Regardless of the market, most first time home buyers have one thing in common – they do not have the time, nor the desire to perform work on a new house, and thanks to popular television shows, a buyer's expectations of a move-in ready home have never been greater.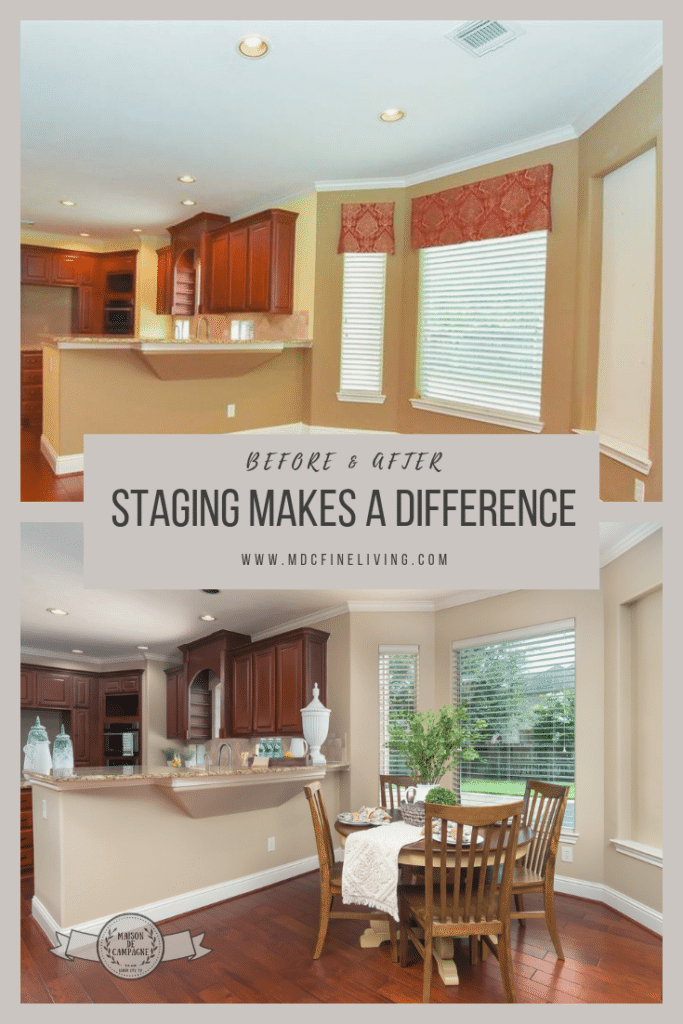 Home Staging is the Ultimate Marketing Tool
A professionally trained home stager can help to identify hidden value in your home. Home Staging utilizes merchandising techniques to showcase the best features of the home.
The goal of home staging is to clearly define the space, show proper scale, and create an emotional connection for buyers – this results in higher quality offers and is achieved through the necessary updates and repairs, proper furnishing, arranging, accessorizing, and essentially, merchandising of the space.
A home stager can help to identify the most cost-effective updates/repairs to address to help to avoid buyer uncertainty and allow the home sellers to skip any unnecessary expenses.
Working as a part of the Real Estate home-selling team, a professional home stager will provide practical and creative solutions for showcasing your home.
When buyers are lining up at your door for showings, it can be easy to wonder if home staging is even worth the effort, but market statistics show that it is! Staging helps buyers to see the property not just as another listing, but as a home they will be happy living in. Buyers who fall in love with a house are more likely to be okay with minor issues with the inspection or appraisal and agree with your assessment of home value because they can see the charm and comfort that the property has to offer.
The bottom line is that in a market with premium prices and heavy competition, home staging is the best tool to set yourself apart and obtain a higher ROI.
Premium Prices: Buyers expect home prices to be high. They're fully aware how low inventory is, and they also know they might have to "bid" to get a house. What they do not expect (or want) is paying "too much, especially if it's a dated fixer-upper priced at a turnkey home rate. Nowadays, buyers a very savvy and they expect to get what they pay for.
Listing Competition: Limited inventory does not mean no inventory. If anything, homeowners have to try even harder to compete with other homes on the market at the moment, especially if those homes are asking a lower price. With fewer comps, home buyers really need to feel the value of your home to set it apart from other houses. If they can't see it on paper, you'll need to show it to them through staging, great photos, and experiential showings.
High ROI: Staging isn't just marketing gimmick, it's an investment. Statistic after statistic proves that professional staging offers unparalleled ROI. If you've considered upgrading the countertops or having your exterior painted before listing, you need to consider staging. It's less disruptive, cheaper than you think, and can be done in just a few days. Staging pays for itself again and again (and again) when you sell your house faster and for more money.
Want to know how Maison de Campagne can help you? Give us a call at (281) 588-0096 or contact us here to request a quote for one of our home staging services