If you're selling your home, you want to make sure it looks its best for potential buyers. That means staging your rooms in a way that highlights their best features and makes them look as spacious as possible. Kitchens are often one of the most challenging rooms to stage, especially if they're on the small side. But with a little bit of creativity, you can make even the tiniest kitchen look amazing! 
Here are a few tips we've found useful when dealing with a small or crowded kitchen:
Clutter Free Countertops
Make sure your countertops are clear and clutter-free. While this is something that every real estate agent and home stager recommends it is never more important than in the kitchen. A clean, open countertop will make the kitchen look bigger, brighter, and more inviting.
Adding key pieces of decor can help showcase the kitchen. When you have limited space, the pieces need to be chosen well so that they help draw the eye and add interest to the area without taking away. This means, keep the kitchen vignettes simple and minimalistic, opting for just one or two key pieces that will make the space look bigger.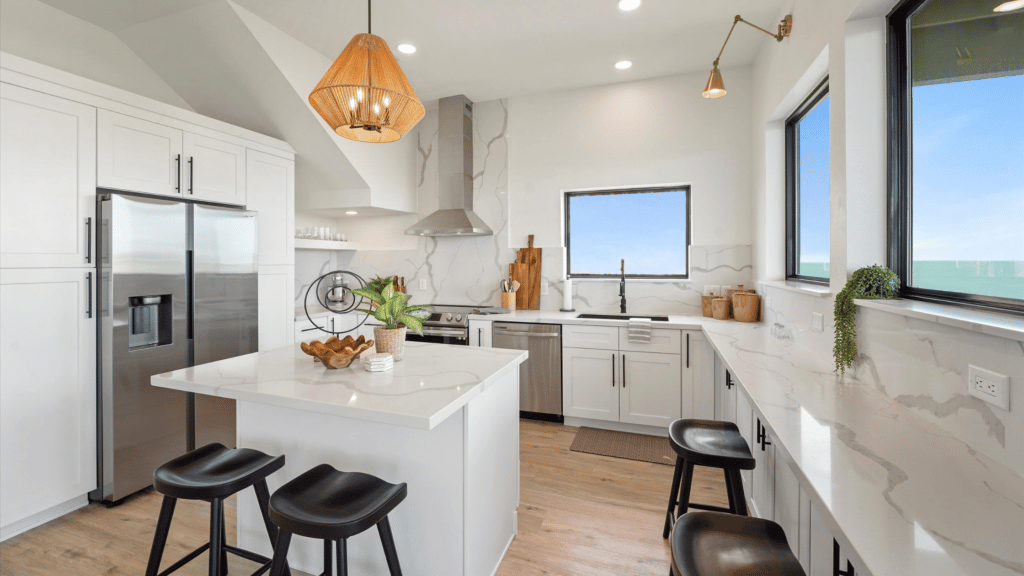 Let there be light
Improving the lighting to your kitchen can dramatically change the way it looks and feels. A dark kitchen can be instantly transformed when proper lighting is added. Fluorescent lights are not inviting, but adding some soft lighting in strategic areas can make the space look much more inviting.
If you have a window in your kitchen, open up the curtains and let natural light in to help bring life and brightness to the room. If there is no window, choose light fixtures that will help create an airy atmosphere and that will make the kitchen feel more updated, which is something buyers will definitely notice.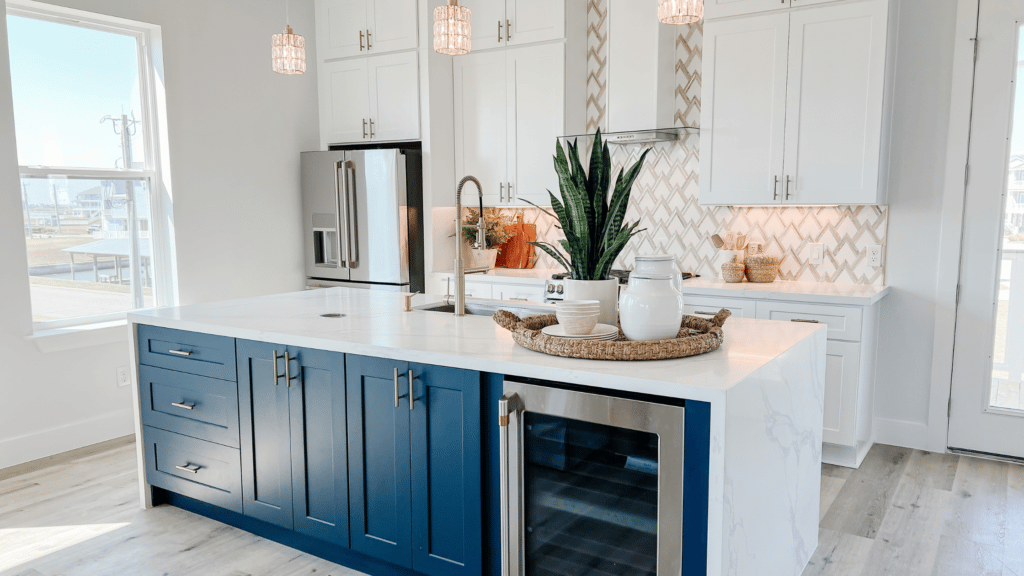 Fresh Paint Job
If you have the budget for it, consider giving your kitchen walls a fresh coat of paint. A bright color can give the illusion of an airy and larger space. Consider cool colors like blues and greens which are known to open up a space and make it feel more inviting. If you're not a fan of color, then choosing a neutral white will always be a safe bet, and this also goes for the remainder of the home.
While we're in the topic of color, if your cabinets are a looking a bit tired, consider freshening up with new paint and hardware, don't forget, older cabinets will be instantly refreshed with a quality paint job and updated hardware. Again, going with a light or neutral pallet will help brighten the space and make it feel larger. Upgrade your faucets if the fixtures are looking dingy and dated, or worse, leaking.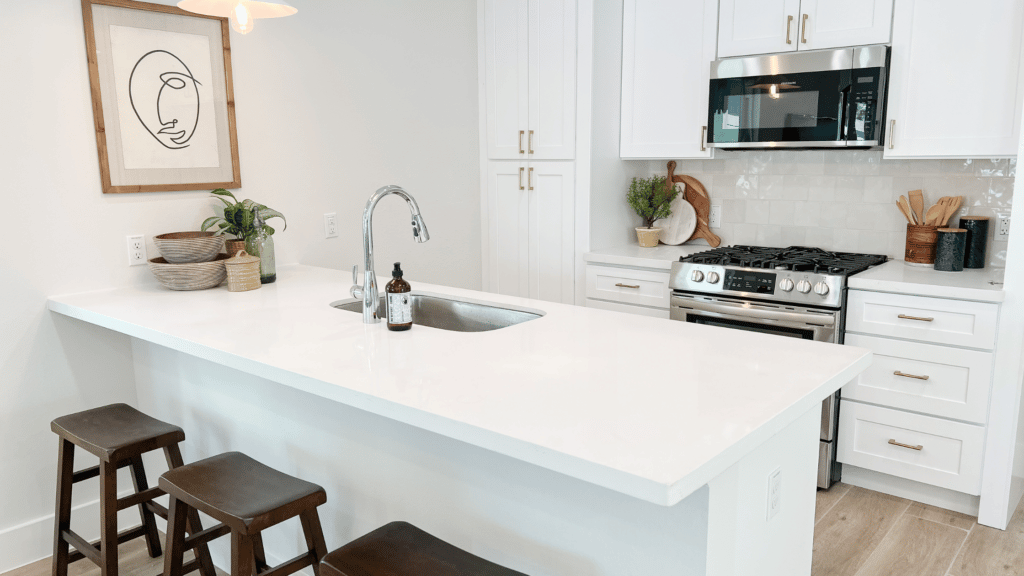 Be Strategic with Seating
If your kitchen is on the small side, it might not be able to accommodate a full eat-in area. Consider adding counter seating or a smaller cafe table and chairs instead of a bulky dining set. A bistro table with two chairs can fit perfectly into the corner of your kitchen and add extra seating without making it look crowded. The goal is to inspire the buyers and have them visualize how they will use and live in the space and the last thing you want is to have them focus on the size of the space and not the functionality.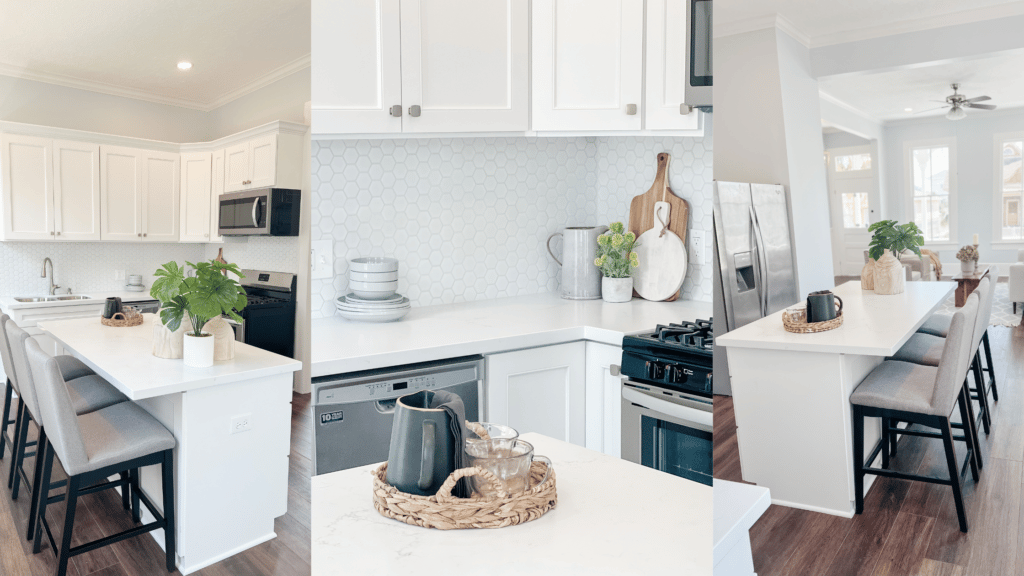 These are just a few tips that can help you stage your small kitchen for potential buyers. With just a few tweaks, you can make the most of even the tiniest of kitchens! Good luck!
Need assistance staging a small kitchen? Your best option is to work with a professional staging company to get it just right. MDC can help you maximize your home's potential and create a beautiful space that will attract more buyers. If you're ready to sell your home for more, schedule a staging consultation today! 
Happy Home Selling and until next time!