If you're selling an outdated home, don't despair. Home Staging is not only for new builds or luxury homes. With a few simple adjustments, you can make an outdated home look fresh and updated for potential buyers.
Here are four home staging tips to help your outdated listing stand out from the competition:
Pick Your Paint Colors Wisely
A neutral and light color palette is an easy and cost-effective way to make a home feel current. Light colors can add brightness to a room, creating the illusion of it being much larger than it is. Aside from the impression of spaciousness, neutral colors such as light blues, soft whites, delicate grays, warm creams, and neutral beiges can give off an inviting atmosphere that potential buyers will appreciate. It is important to note that neutral colors provide an excellent base for adding accent pieces like furnishings and decor that further work to make the home appear more up-to-date; they tend to be more versatile with mostly anything, making buyers more likely to remain in the space. All in all—making sure you or your clients opt for neutral and light hues when staging their homes will certainly pay dividends!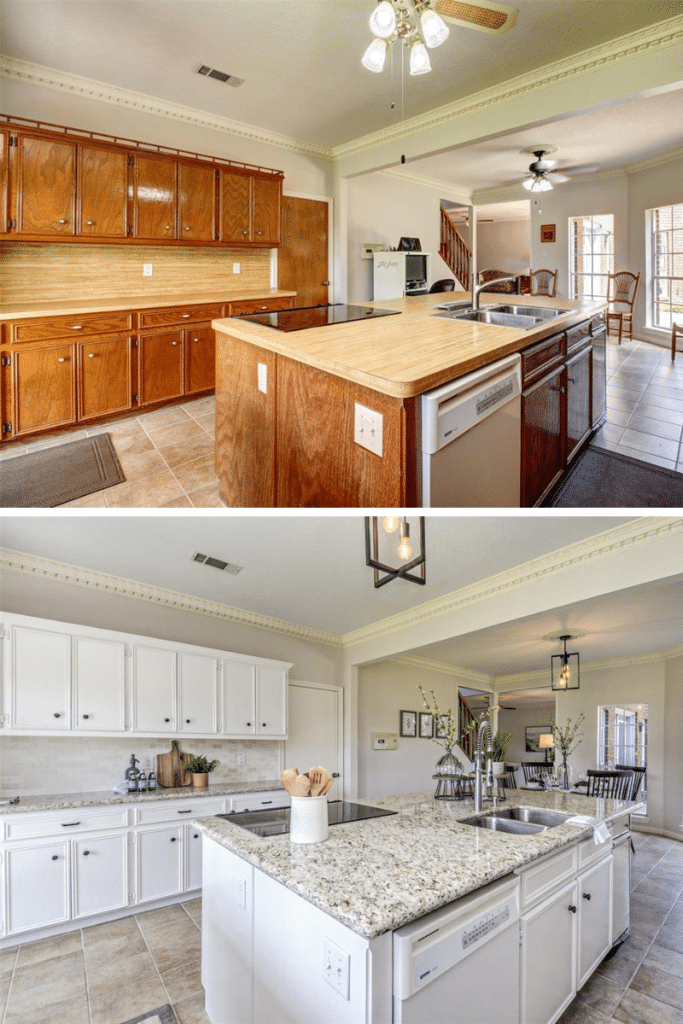 Choose Your Furniture Carefully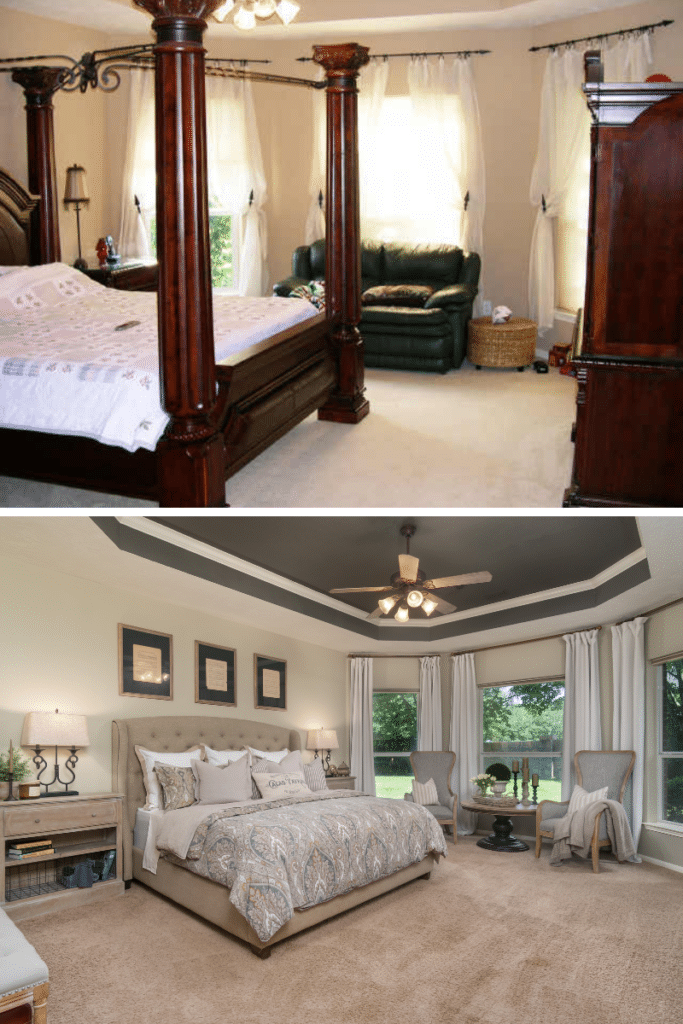 Assisting someone in making the most of an outdated home can be a challenge, as prospective buyers want a living space that is modern and relevant. To ensure they get the best return on their investment, sellers should live by the mantra that less — but on the proper scale — is more. Oversized furniture may fill up a room, but it can overwhelm and make it feel cramped instead of inviting. Where possible, store away bulky furniture and replace it with pieces that take less visual space. Adding accessories like colorful pillows and throws can add just enough flair without cluttering. Too much can also be overwhelming, so aim for neutral slipcovers to create an airy canvas, and don't forget about spatial awareness – too much extra stuff in each corner won't do anyone any favors!
Add Your Window Treatments Thoughtfully
If you are looking to bring your outdated home into the present day, a great place to start is by swapping outdated or style specific window treatments like heavy drapes and replacing them with more neutral, timeless treatments – like simple shades and or neutral curtains / drapes. Not only do they bring in more light and create an atmosphere of greater openness and spaciousness (which all buyers love!) but they are far less likely to be 'off-putting' – meaning you don't have to worry about potential clients being distracted by curtains that don't fit their particular look or taste. Light fabric or sheer window treatments work best when staging, as they bring in the most natural light while still providing privacy. If you are going for a certain style such as classic or modern, keep in mind specific types of color or fabric that would work best for achieving this look.
Lighting for the win
Let's take a home built in the 90's as an example here. Home builders placed countless light fixtures clad in polished brass and frosted glass as it was the "it" thing during it's time. While brass has made quite the resurgence, it is brushed, antiqued, and un-lacquered brass that has buyers swooning, not that shiny builder grade stuff. Simple light swaps with fresh neutral designs that are fitting with the architecture of your home or listing can be a huge plus to buyers and easily doubling or tripling your return on investment.
Let's also discuss the "boob" light. It's just not that stylish, sought after or elevating the look of any space. If you have them, remove them, and if you see them in a store as a cost effective replacement, there's a reason they sell for "2 for $30", move past them! I'm not saying that you need to break the bank with lighting updates, but look at listing for sale around you. If you're living in a master planned community, chances are, your homes lighting will also look like all the other homes for sale in the neighborhood. A buyer will notice "differences" with your home / listing over the competition and appreciate it's non-standard looks over the others.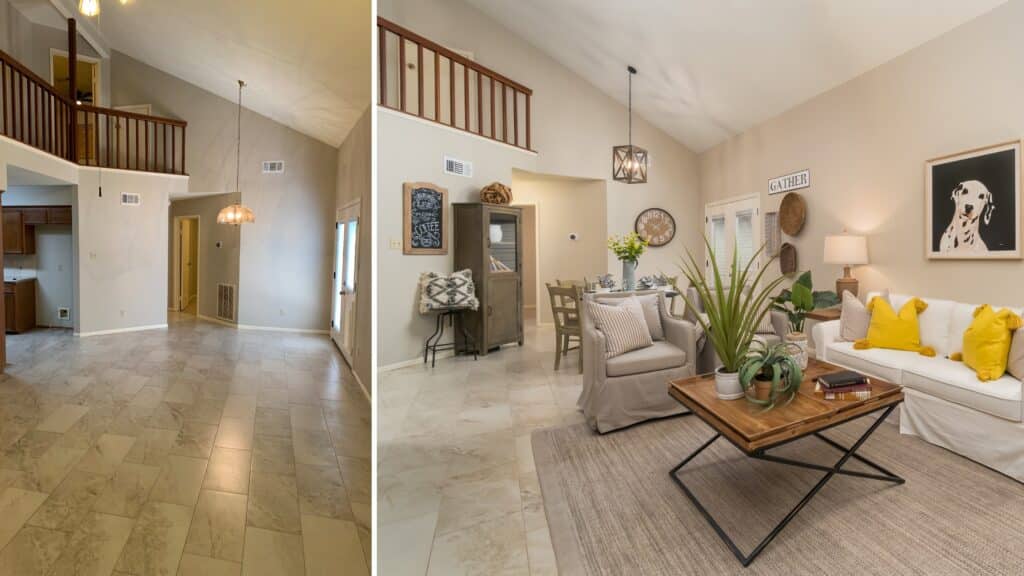 In conclusion
If you're preparing to put an outdated listing up for sale, you need to start with staging. Paint colors, furniture, window treatments, and lighting all have an effect on potential buyers' perception of a home and can make or break its sale. While planning your staging strategy can seem overwhelming at first, these few home staging tips for an outdated listing will help get you started. When in doubt about making the right choices for a dated listing, don't be afraid to bring in a professional stager who can bring their expertise to the table.
Here at MDC, we understand the importance of a well-staged property when it comes to listing, and we're happy to provide any assistance or advice needed to ensure success! So if you're looking to determine how best to stage an outdated property–or even update your own home before selling– Give us a call today and let us show you how our expertise and knowledge of the current market can help get your house sold quickly for top dollar.
Until next time!