The spring housing market is off to the races! As inventory of homes increases, buyers are coming out in force. The interest rates remain low, which only serves to fuel the interest of buyers and sellers who were unsure of making a move before.
Realtor.com research shows that the first week of April is he best time to list your house for sale! The analysis was based on trends in median listing prices, views per property on realtor.com, home price drops, median days on market, and number of listings on the market over the last three years to determine a ranking for every week of the year.
Another study by Zillow, the online real estate company that keeps a database of nationwide sales, reports that the best time to list your house is the first half of May.
What do these reports have in common? Spring is the best time to list your property, and here's why.
According to Zillow – Seasonality affects when to sell a house
As trends show, people tend to shop for homes as the weather gets warmer, so prepping your home in the winter months to sell in spring usually makes sense. With tax refunds in their pockets, nicer weather for moving in the forecast, and summer break from the kids' school coming up, it's easy to see why spring is typically the most popular time to buy and sell.
According to the report, during spring,  "nationwide, homes listed for sale between May 1 and May 15 tended to sell for about 0.7 percent more (or roughly $1,600 on the typical U.S. home) and about six days faster than usual."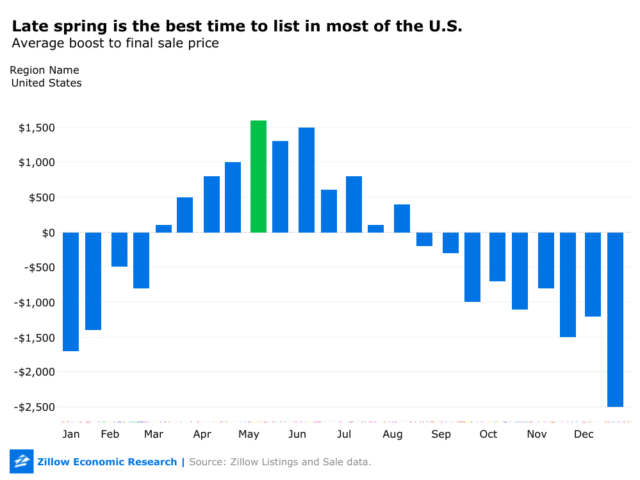 As professional Home Stagers, we have to keep track of these and any other real estate market trends to ensure we can optimize our offerings and work with Real Estate Agents in maximizing the profitability of our customers listings.
Don't wait until it's too late before you start to prep your house for sale. You may miss the opportunity to list at the optimum time to get your house sold faster and for more money.
Here's a quick checklist of what you can do to prepare and not miss the opportunity to list your house while demand is still high:
Start meeting with Real Estate Agents to find out who's the best fit for you.
Consider hiring a Professional Home Stager and getting a Home Staging Consultation to help you sort through everything that needs to be done to get the house "listing ready".
In the absence of a home stager – Make a checklist of repairs and upgrades (like fresh paint and adding to your home's curb appeal) and come up with a budget for any maintenance and repairs needed.
Start decluttering and de-personalizing your home.
Look into a storage unit for personal items so your home is clutter-free when you list it.
Check out our tips for selling your home this spring by clicking here.
If you think that selling your home would be too overwhelming or you don't know where to start, give us a call at 281-588-0096 or contact us here to schedule your Home Staging Consultation and let us help you give your listing the most exposure to the buyers ready and eager to make a move! Our feedback will put you on the right track for a faster sale and a higher profit!
Until next time!