Merry Christmas and Happy Holidays from our family to yours! Christmas is such a magical time of year. The excitement and spirit of the holiday season is contagious by all. My fondest childhood memories are centered around the celebration of Christmas with my family. As a young boy, I found such joy watching my Mom decorate our home for the holidays and seeing the look of my siblings and extended family when they arrived to our home and sat in the living room to open all their gifts. Now, as an adult it still brings me joy to be able to decorate our own home and share the holidays with my family in our home.
This year we are hosting family throughout the Christmas and New Year's Holidays and even though it has been crazy, I wouldn't change this time together for anything else in the world.
It was important for us that our friends and family feel welcomed and comfortable when staying with us or visiting. We didn't have time to decorate the exterior of our home, so we kept it simple on our entry porch. A fabulous Holiday Wreath decorated with our theme colors for this year and two 6-foot artificial Christmas trees set in rustic looking urns. The result was simple yet inviting and the lit trees looked great when receiving our guests.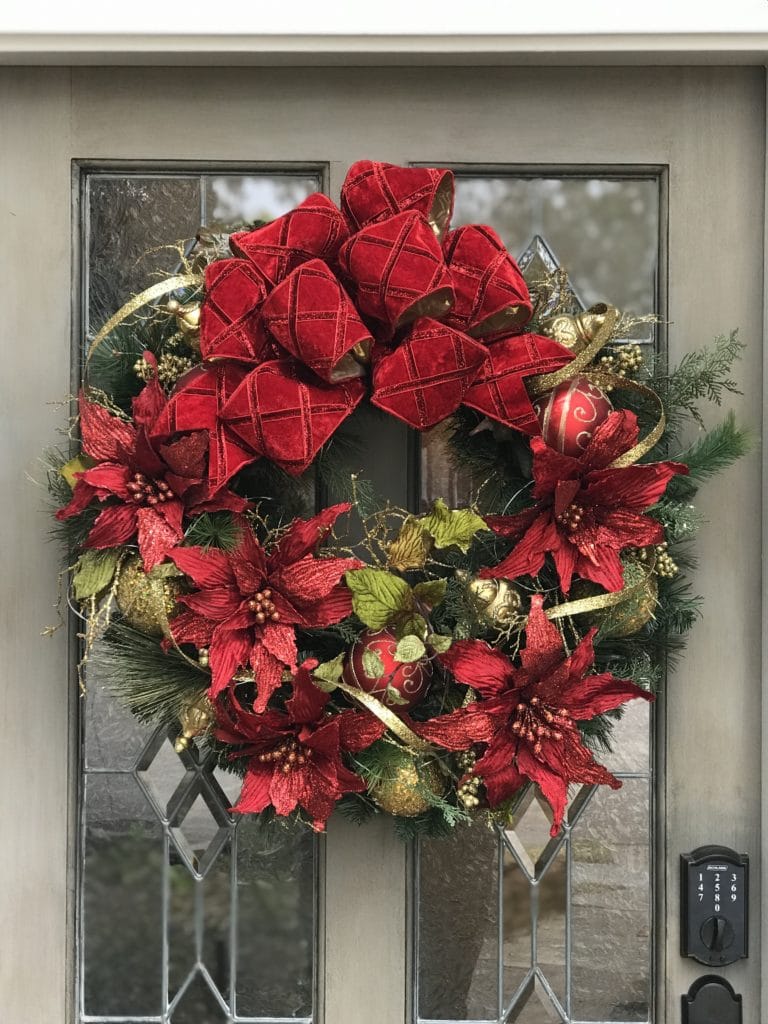 Once inside, the banister is the focal point of our entry. The garland was decked out with poinsettias and holiday ornaments that go with the red and gold color motif. We also incorporated some beautiful gold French horns that I just had to have when I saw them back in September. Added some glittering "fairy lights" to give it that little extra WOW factor.
The rest of the entry and adjoining dining room was simply decorated to go with our red and gold color scheme. A custom holiday arrangement in the art niche across from the front door brought it all together.
And finally, walking into the living room, our Christmas Tree. A massive 15 footer (17 if you count that tree topper) that took what seemed like forever to decorate. This is the biggest tree we have ever decorated and it took a lot of work but it certainly has paid off.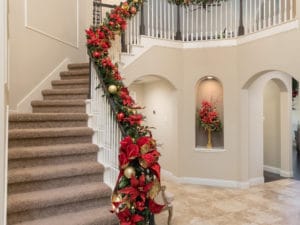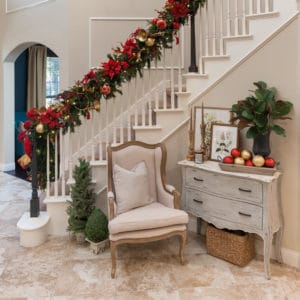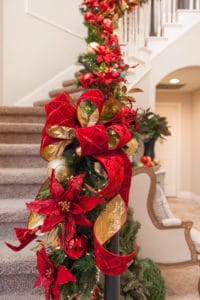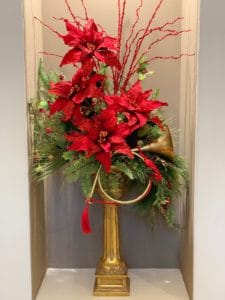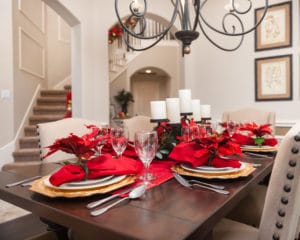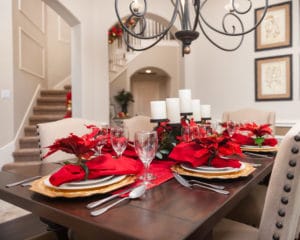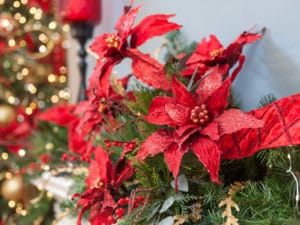 I wanted a classic, yet elegant look to carry throughout the house and couldn't be happier with the end result. It's hard to believe that we are coming to a close for 2018, but we know that the new year is full of amazing possibilities and the growth of our little company in this great big home style world…
We wish you a very Merry Christmas and a Happy New Year!!
Best regards,