Styling built-ins or bookshelves is one of our favorite things to work on in most of our projects. There's something about a well arranged shelf, that's not only aesthetically pleasing but inspirational.
A few weeks back, we posted a Reel on our Instagram page of a recent staging project's built-in styling process. Since then, we've received many questions about styling book shelves, although we've been doing it for years, we know how much thought can go into it. Despite their name, bookshelves aren't just for books anymore. You can find built-ins in numerous rooms of the home, which make them quite versatile. Shelves are a great place to display family photos, art collections, accessories and other unique or special items that add visual interest to any room, not jut books. Over the past year and with the rise of virtual meetings, the right "background" in your home office, or workspace has become that much more important.
Here are a few go-to tips for styling a bookcase or built-in that's worthy of a "shelfie."
Weight (Up /Down)
It sounds obvious, but I've been to several client's homes and many times notice that items may fill up one or two shelves of a built-in or bookcase, leaving the others sparse. If you are building a collection of accessories, framed photos, and books, keep in mind that creating a vignette with the items on each shelf will fill the shelves more uniformly rather than crowding a few and leaving the others empty.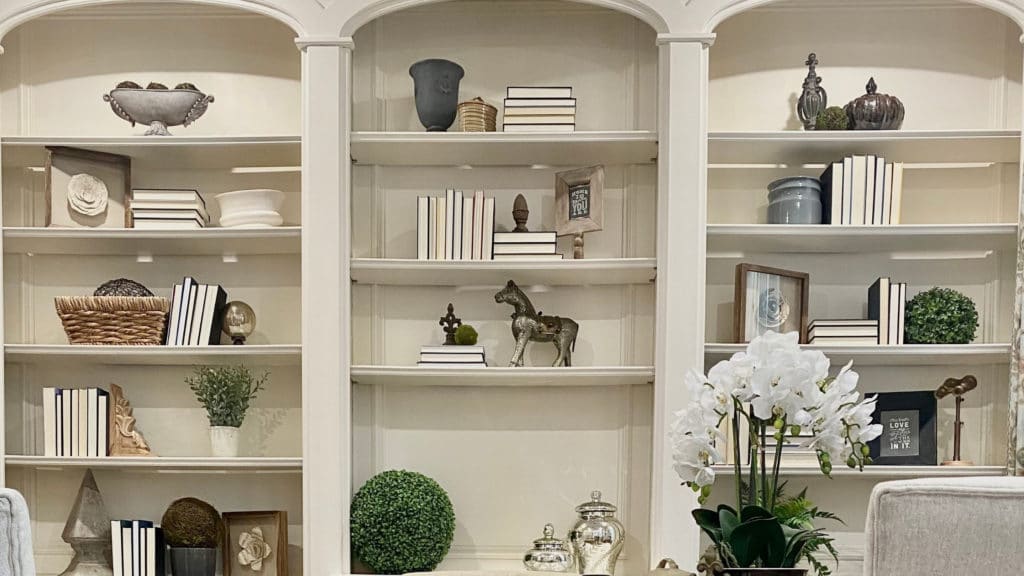 Symmetry
Now that we've talked about balancing the weight of shelves out, let's talk about another important aspect. Symmetry is important when we have multiple columns of shelves or built-ins flanking a fireplace for example. Taking the same concept of weight per shelf, we want to mirror that weight when working with a collection of cases or built-ins. Our eyes naturally scan a space and we notice things that stand out from "cohesive", so let's make sure we balance the space.
Items for Display
This is the one area I hear constant frustration with. Gone are the days of needing to be a reading enthusiast with a mountain of books needing to be housed. That's great if you are and have the "inventory" to fill your shelves, but for situations outside of a library or office space, shelves of books would not seem as appropriate in a living or dining room. I like to gather numerous items to create vignettes within shelves. Books, decorative orbs, faux florals or greenery, sculptures, vases, and framed photos are all excellent pieces to fill those spaces.
Displays by Design Style
Keep your home's design style in mind while filling your shelves. What? Remember that your shelves are just an extension of your surrounding aesthetic within your room / home. If your taste is modern and minimal, filling shelves to the brim will seem out of place. In this instance, clean lines and statement pieces per shelf will feel consistent with the room rather than rows of books or numerous items per shelf. If your space is more European (let's say a relaxed French country), you may want to have layers of items such as books, glass containers, moss orbs, weathered pots, and such.
I hope these tips get you well on your way to a stylish backdrop worthy of a "Shelfie" and remember that even the pros don't always get the placement right the first try, it's a process to create a look that gives you the satisfaction of the perfect shelf setting. Arrange and step back or walk away and return to identify what isn't working (and what is), then work in other items until the space feels complete.
For more tips, tricks, and how-to's, check out our past blog posts and join our mailing list to receive future information. Do you have a design dilemma or a topic you'd like us to cover? Leave us a comment and let us know what topic has you scratching your head.
Until next time,