You're ready to buy a new home and as you search the MLS you stumble upon a listing that's screaming at you "Come see me!" The home feels bright and welcoming, lots of natural light streaming into each room, and you think to yourself, "This is it!". Perfect space to call home… but wait! This home is only 1,000 square feet. How can that be? It's all in the Home Staging.
It is amazing what some careful design decisions can do for a small home. Hanging window treatments strategically, placing furniture methodically, and enhancing curb appeal creatively can all drastically increase the perceived value.
Today we are sharing our best advice for staging and selling small homes. These tried-and-true strategies will make a smaller home appear larger, and show better… so much so, that potential buyers will not mind sacrificing square footage to purchase your beautiful home.
1. Play Up Natural Light
Lighting is your best friend when it comes to smaller spaces. Not only is it a key factor in creating a successful image, but it can help set the tone, mood, and atmosphere you want to convey.
Maximize Natural Light
Natural light will obviously be your best bet, so making sure that you use light and airy window treatments that will maximize the amount of light coming into the room is paramount. Keeping furniture from blocking the windows and away from the walls will allow for the maximum amount of natural light to come through and also give the impression that the room is larger. It may seem counterintuitive to move your couch and end tables away from the wall to make a room look larger, but it works. It draws less attention to where your walls end and uses negative space to your advantage.
Another tip to amp up the natural light in the room is to use reflective surfaces. We doubt we're the first ones to tell you that mirrors can make your room look larger, but it's true! Natural light creates the illusion of space, and mirrors create the illusion of natural light, so even in dim spaces or small, windowless corners, a mirror can help expand the look. If you don't have room for a mirror, try other reflective materials to create a similar effect! Anything from light-bouncing backsplash tiles to metallic décor will help create that dimension that all well-designed spaces bring.
Create levels of light
If natural light is hard to come by, then make sure you have plenty of light sources in the home by creating levels of lighting. Adding in lighting at different levels, can illuminate dark corners and create the feeling of a larger room. If possible, add recessed lighting to provide overhead cascades of light. Pendants or chandeliers will draw the eye up and make the room look taller but be mindful of ceiling height as these can overwhelm a space and have the opposite effect if too big or hung too low. Lastly, use floor or table lamps for seated level lighting, ensuring that the whole room feels bright and airy.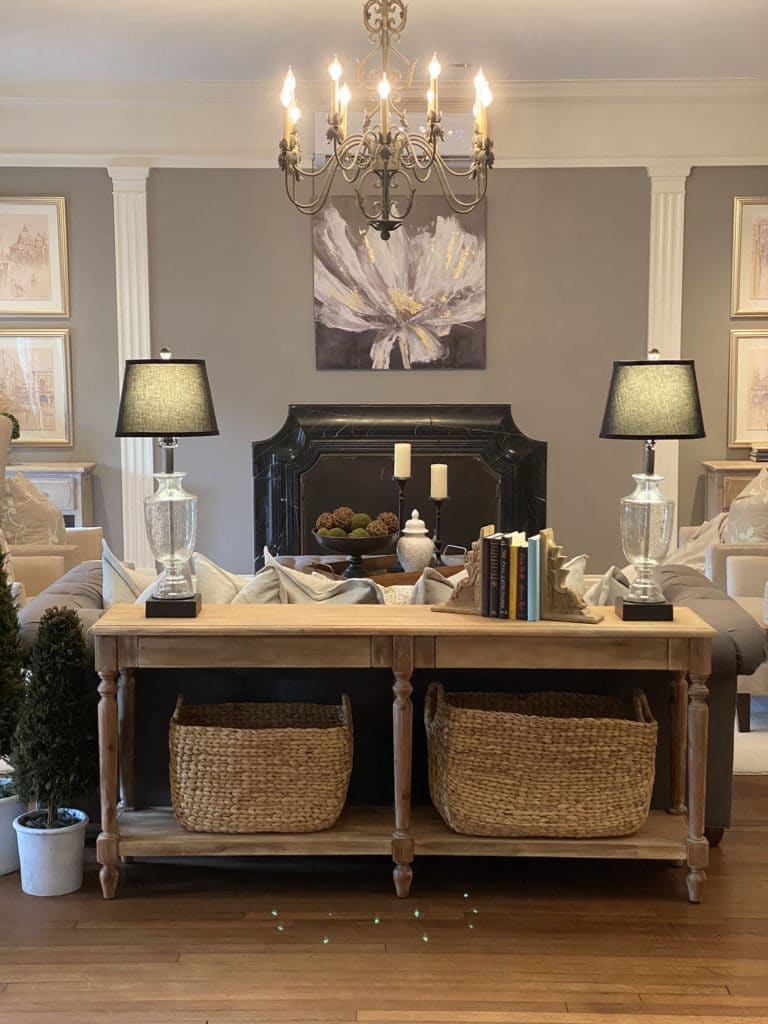 2. Paint the Ceilings
If you have ever remodeled, you know how much new paint can do for the space, but it's about more than just a fresh coat, light and neutral tones make rooms look bigger, too.
Paint your ceiling the same color as your walls. This will draw the eye up, which creates the illusion of a larger room and higher ceilings. Having a ceiling that contrasts with the walls makes a room feel boxed in and that's something you want to avoid.
Bonus points if you are able to install some trim and crown molding; we've found this can also make the ceilings look higher as well as add an extra layer of dimension.
3. Pick a Cohesive Palette
Lightening the color palette of your space will do more than you think. Anything from replacing dark curtains with light and bright ones to switching out a few textiles with softer colors will lengthen your visual plane, creating a spacious feeling.
A monochromatic color scheme is the best option for a smaller room. Choosing contrasting colors will break up the room and make it appear even smaller. Choose a cohesive palette for your furnishings that flows well with your walls and creates a space that's well blended. It will make it easier on the eyes and gives the illusion of a larger room. Add pops of color with throw pillows and accessories to infuse the space with more character.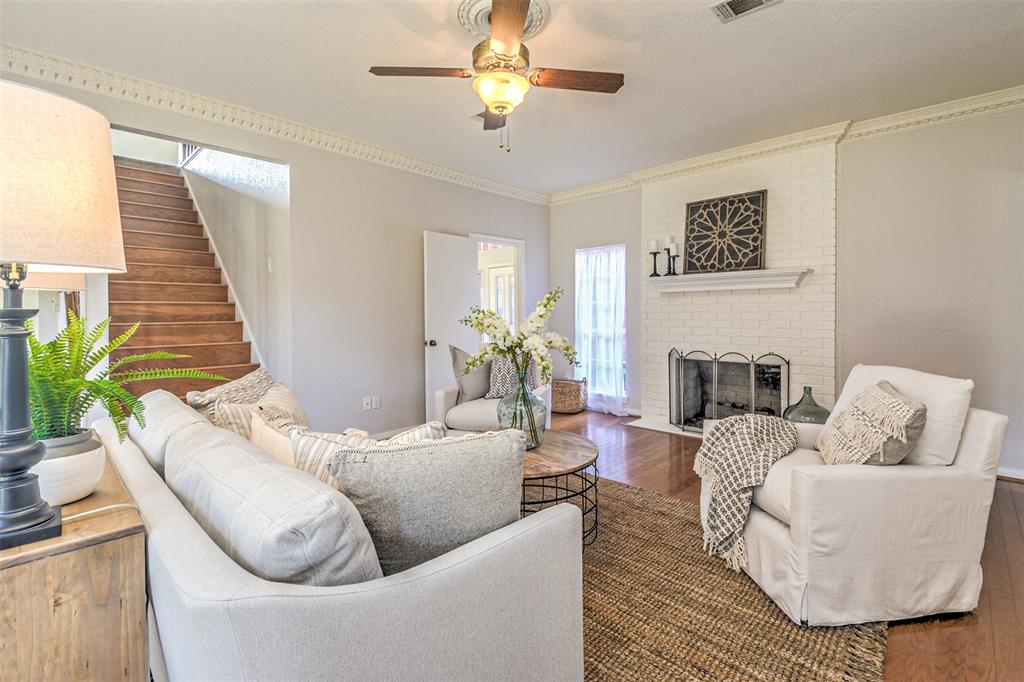 4. Place Curtain Rods High
Classic panel curtains make a room look more spacious when you mount the curtain rod close to the ceiling instead of at the window frame. Sleek, floor-length panels draw the eye upward along the entire length of the curtains, creating an illusion of height.
Adjustable or long solid curtain rods help create the illusion of spaciousness. mounting a decorative curtain rod 6-12" past each side of the window and near the ceiling allows you to open the curtains completely, framing the window, which makes the window look larger and lets more light into the room.
5. Select the Right Furniture
To have a balanced design, especially for smaller rooms, the distribution of weight will be a key factor. Choosing pieces with lighter silhouettes as opposed to bulky helps open the space.
There are multiple ways to achieve this, and they all have to do with proportion and scale; but an easy way to achieve this is by selecting focal pieces that have legs to create the feeling of more floor room.
A good example of this would be if your couch is on a solid base, adding a legged coffee table and legged accent chairs would create more balance, making the room feel lighter and more spacious. We use this trick a lot, particularly in a bedroom since so many beds are on a solid base. Using legged nightstands to contrast the heavier bed will immediately give a larger appearance to the room.
Choosing furniture with multiple purposes will also provide function and be a space saver. For instance, choose a desk that has built-in shelving or storage. You can also use an ottoman that doubles as a coffee table.
Do not be afraid to add substantial pieces. While this might sound counterproductive, there is something about large, substantial pieces in a small area that brings the space to life and will make it feel larger. Whether it's a large-scale art piece or styling a coffee table and/or console table with a few larger sized pieces rather than a slew of smaller items, this will elevate nearly any room and give the space a higher end feeling by providing a focal point that potential buyers will really appreciate when viewing the home.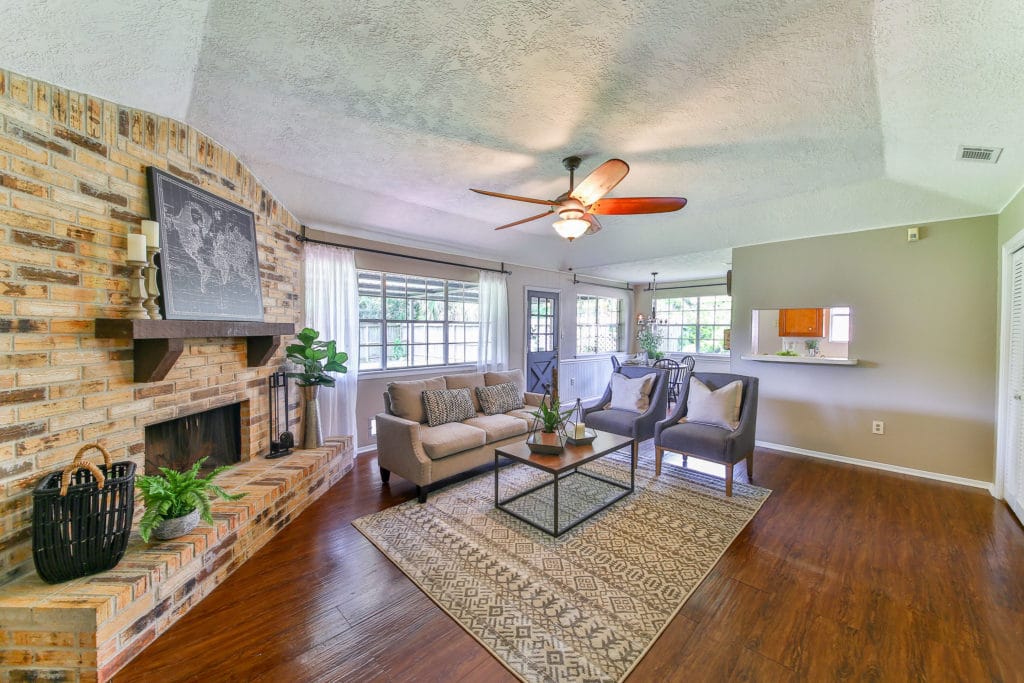 6. Minimize Clutter
This one is a given, when it comes to small spaces, less is always more. Clearing out surfaces to avoid clutter and adding simple and eye-catching vignettes to your countertops and bathroom vanities will go a long way.
Keep an open layout, by clearing out excess of furniture and avoid blocking walkways and keeping hallways clear. All areas of a room should be free of clutter, including our shelves. Take the time to organize and clean your closet, pantry and built-ins before listing your home as potential buyers will go through all of them during their walkthrough and you don't want them to look stuffed since this will give the impression of a lack of storage space which can be a turn off.
Staging a home prior to listing is the single best marketing tool you have. It's amazing how a space can be transformed just by following some of these tips and tricks. If you're planning to sell your home and need help staging, contact us and let our team of experts stage your home to sell for top dollar. Request a Consult today!
What are some of your favorite ways to make your house feel larger? Tell us in the comments!
Until next time,