Home staging is both an art and a science. It is the stagers job to understand the Real Estate Market in each area that they are staging. Most savvy Real Estate Agents, Builders, Investors and Stagers understand that Demographics play a big part in how a home should be presented. The BEST Stagers know how to leverage the Psychographics of an area and know that they can play an even more important role in getting those potential buyers to commit and submit that offer. Example, if a home is being staged in an area where the median age is 55+, it will be staged differently than an area where 25-35 year old's predominantly live. Psychographics are used to trigger the Buyers emotional connection to the home. After all, people buy on emotions.
As a Stager, you want the rooms staged to have maximum impact, and while you want pretty rooms, it is NOT the only goal. A very neutral, nicely decorated home may look good, but it's not necessarily memorable. If a buyer can't relate, they won't envision themselves living there and an offer won't come, a quality offer even less. A great Home Stager's goal is to present your home so that it appeals to Buyers in a way that connects with them on a deeper level, leaves a memorable impressions and makes it more valuable in their eyes.
Today, we'll be sharing our top tips for home staging that resonates immediately with the target client.
Know to the Neighborhood
"Location, Location, Location…" They say that's the most important aspect of any real estate transaction for a reason. When searching for a new home, whether that be their "Forever Home" or First Home, the location of the home is the single most important factor that buyers consider. Is the neighborhood family friendly and suited for raising small children? Or is it an urban oasis for single professionals? Maybe it's a community that caters to an older demographic such as a retirement community. Nearby schools, crime rates, amenities, walkability score, transportation, the neighborhood aesthetic, future appreciation potential, ect. are all key areas to research and consider when planning the Home Staging, the buyers are definitely looking at these and so should we as Home Staging Professionals.
Knowing the demographics of the location is the first step to an effective staging project, but it doesn't stop there. How do we get them to buy in?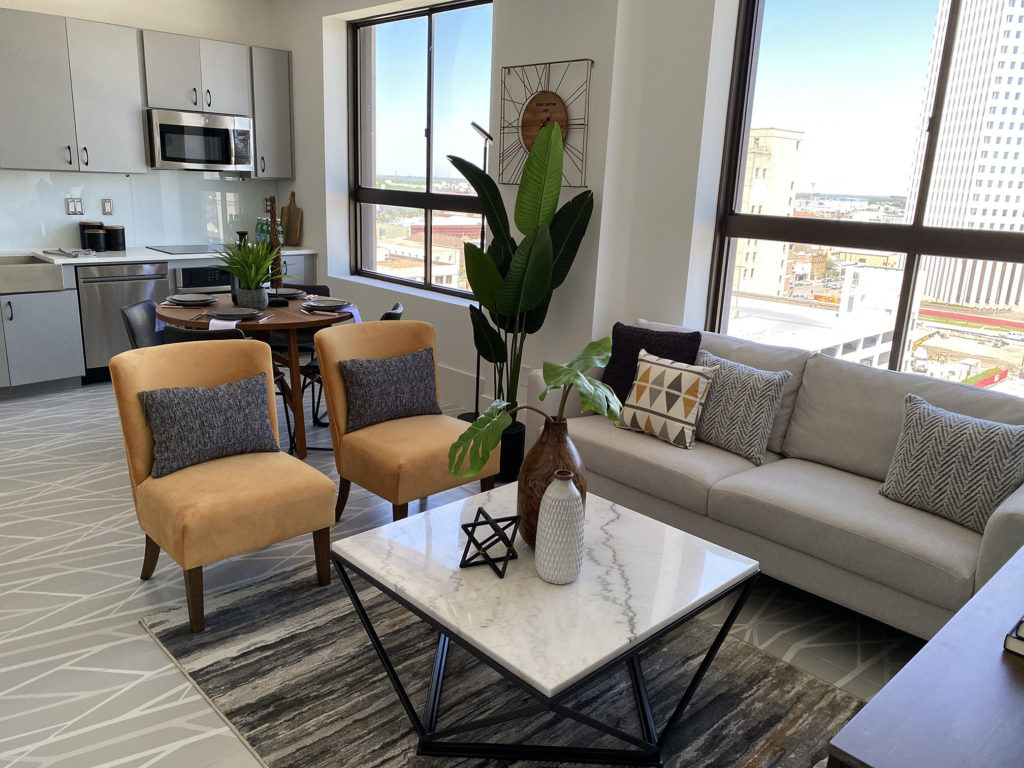 Narrow Down the Niche
We begin by researching who will most likely purchase the home, how will they live there, what lifestyle do they want to lead. Is the family home better suited to a couple just starting out, raising young children? Or is it a larger home for a family with teens? Maybe the home is located in the city and therefore will attract a younger, single clientele, with a different sense of style and lifestyle.
Staging a home with intent makes all the difference; after all, people tend to buy on emotions, and if the space doesn't resonate to them or their lifestyle, chances are they'll either move on, or if an offer is made it won't be the quality offer the sellers would want. Zeroing in on the demographics and psychographics of the potential buyers will help us create a strategic plan and set up the space to maximize its marketability and appeal to the target buyer's interest, lifestyle and values.
It's All in the Details
We're firm believers that it's all in the details. Once you've narrowed down to who your most likely buyer will be and how will they use the space, it's time to execute the vision. What features do you want to showcase? What style of furniture and accessories will work best? Are the room colors cohesive? Are the rooms cozy and do they give a feeling of it being well taken care of? Am I taking full advantage of all the natural light sources in the home? Home staging brings all these matters to the table and addresses them to maximize the impact the home has on potential buyers.
A high end home outfitted with a small futon, does not convey the right lifestyle. A contrasting colored wall that clashes with the furnishings provided will detract rather than entice. Home staging is all about conveying a lifestyle that buyers can aspire to and envision themselves living in. Here at MDC, we make sure that ALL of our staging projects showcase that lifestyle and differentiate ourselves from traditional cookie cutter staging.
Neutralize, but don't Sterilize
We've talked about Demographics and Psychographics and the importance of using the right kind of inventory to stage a home, but we can't forget about appearance. For the longest time, every Real Estate Agent and Home Stager would recommend to neutralize the home with bland colors and reducing the number of accessories because "the Buyer needs to imagine their own things in the room". Well let me tell you something, the majority of buyers today don't have the imagination to see themselves in a space and rely on professional staging to see how they could live in the space. Using a neutral color pallet is still recommended, but spruce it up by using pops of color, playing with texture and mixing different finishes that will create a more memorable look while still staying cohesive. You still have to show restraint and balance, but an overall well designed space will have buyers swooning and guarantee more high quality offers and a higher return of investment.
So remember this, while it's fine to neutralize a home of its occupant's personality, don't sterilize it.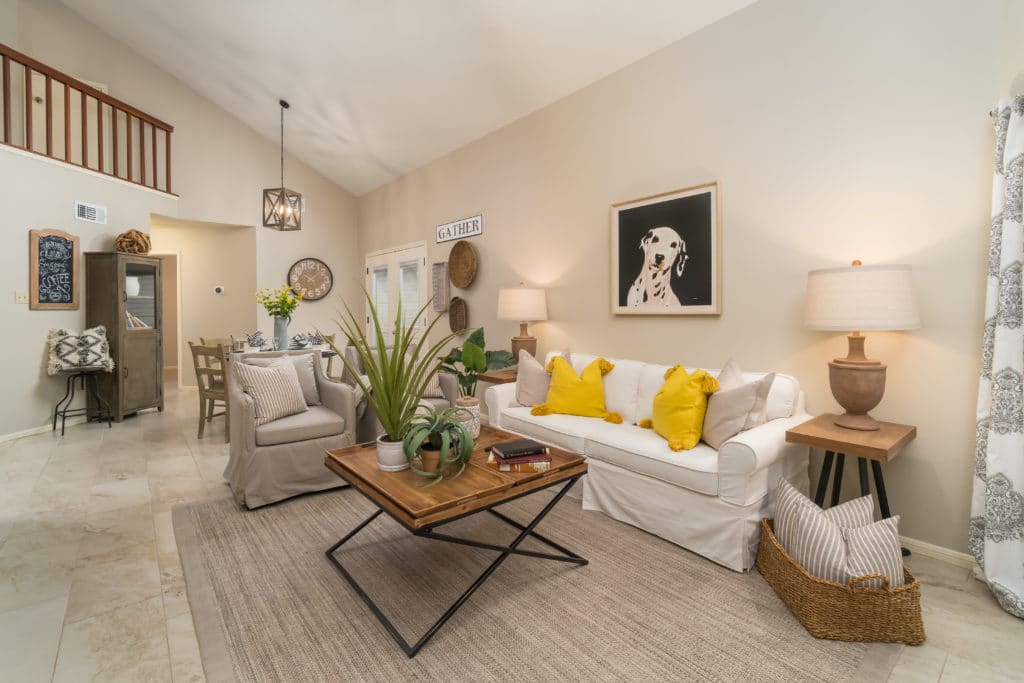 A Picture is Worth Hundreds of Thousands
The world moves forward and so must we all. Since 2015, Millennials represent the largest share of the home buying market. Previous generations were buying homes in an entirely different world. Buyers found their realtors through personal referrals, the Yellow Pages or by simply walking into an open house. If the right chemistry was there, it was often a stroke of luck. But from dating apps to social media, the Millennial generation is both captive to and captivated by technology, which has found its way into the home buying process. The National Association of Realtors reports in Homebuyer & Seller Generational Trends in 2019 that 81% of older Millennials found their home through a mobile app, and this has only gone up since then. Given this, the real estate world is recognizing that leveraging technology will enable it to capture the generation focused on 'swiping right'. What better way to showcase your home, and your fabulous staging than with great MLS pictures.
Using a Professional Real Estate Photographer to showcase your Professionally Staged Home will allow buyers to start falling in love with the home before even setting a foot through the front door. A picture is worth a thousand words and in the case of Real Estate, it can turn into Hundreds of Thousands of dollars if the home is properly staged and marketed.
We showcase a lifestyle, your home is just our canvas
Home Staging is the art of "lifestyle merchandising" and creating that perfect home for your target Buyers to fall in love with it. Using Demographics, Psychographics, and paying attention to detail is a winning combination that will results in the maximum interest and higher amount of quality offers received.
Contact us before you list and take advantage our expertise to maximize your bottom line by increasing the perceived value and marketability of your home or listing.
Until next time,