Every AirBnB host has their own reasons for hosting, from earning some extra money to help with the mortgage, or to meet new people, but everyone can agree that hosting a short term rental property can be a very successful endeavor. You've worked hard on this and you want other people to come and enjoy it, and with booking mostly based on how it looks, the importance of presenting your listing in it's best light can't be passed.
Let's take a moment to discuss 5 staging tips that will help your AirBnB listing stay booked, book for higher rates and maximize your ROI so that both you and your guests are happy and satisfied.
1. Illuminate Your Listing with Thoughtful Lighting
Lighting is a key factor in creating a successful image and not only determines the brightness or darkness of the space, but it can help set the tone, mood and atmosphere you want to convey. Follow the below tips to give your space that wow factor:
Create levels of lighting. If possible add recessed lighting to provide overhead cascades of light. Pendants or chandeliers to draw the eye to a seating area or entry. Floor or table lamps for seated level lighting.
Use the right bulbs – while natural light is best, if there's not enough light coming in or there are dark corners in the room, turning on lamps and overhead light is always a good idea; but stay away from using fluorescent bulbs in interior spaces for photos and in general as their color hue or buzzing can be a turnoff for relaxing vacationers. Certain bulbs, especially fluorescents, let off a harsh and unnatural light that will result in a muddy picture. Use the same bulb color throughout, we recommend 3000K LEDs, not only for it's great neutral color but also for low energy consumption.
Don't forget your outdoor lighting! Porch or patio lighting gives renters a better sense of security as well as ease of travel in an unfamiliar space. Pro tip – illuminate that landscaping with up lighting or tasteful pathway lights.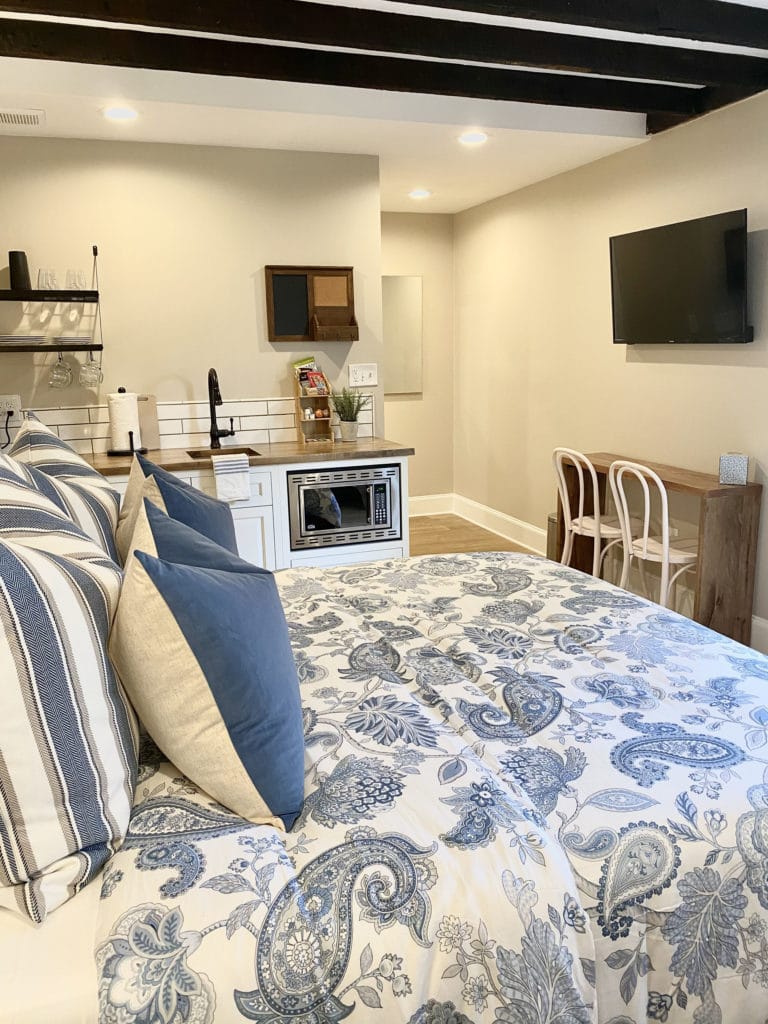 2. Decorate with Your Ideal Client in Mind
When outfitting your space for guests, make smart choices that will market well to the masses. Vacationers want a relaxing space to escape to. Use neutral tones on the walls and add visual interest through wall hangings and accessories. the look should have a nice and clean design that relates to your region or architecture. The more upscale the space feels, the better it's marketability will be.
3. Put All Amenities on Full Display
Make sure your amenities are on display through your listing photos. Do you have an amazing ocean view? How about a clean kitchen / kitchenette with visible appliances (Refrigerator, Stove Top, Coffee Maker)?
Think of investing into basic toiletries (soap, shampoo, conditioner, Makeup Remover Wipes) to show guests you have added thoughtful touches to make their stay even more stress free.
4. Leave No Room Left Unstaged
When designating your spaces function, lay out a floorplan and utilize each area for best use of real estate.
Place appropriate sized bedroom furniture that allows for ease of walking and storage space
Always provide a space for guests to eat or plan out their day. (Dining space or small dinette table)
Empty corner nooks are perfect for a comfy chair and floor lamp / side table.
The goal is to not overcrowd the space, but provide a warm and inviting environment where guests feel most relaxed.
5. Understand the Power of Good Photography
Photography is KEY! 99.999% of your guests will find your listing from an online source. Your first impression will be from a photograph, so make them count! The best option would be a real estate photographer to do a shoot of your space for the highest quality, BUT, if you whip out that smartphone, here are some pointers for each of those photos.
Take photos in midday sunlight, Open all curtains / draperies for natural sunlight to stream in, turn on all lights and turn off any ceiling fans prior to photos.
If you have a private outdoor entry, photograph it on a beautiful day (Don't forget to add a fresh outside mat, Clean the entry door, and weed the flowerbeds)
I hope these tips have been insightful for the success in your rental endeavors. It can seem overwhelming once you've started, but paying attention to details will leave your guests appreciating the perfectly executed space for years to come. You will benefit in high occupancy rates, five star reviews, and referrals from previous guests.
Good luck – You've got this!!
If you would love a staging professional's help taking your Airbnb listing to the next level (or price tier), let's chat!
Until next time,